Fire Engineering: The Future Firefighter Podcast With President Bill Killen
Join host Chris Baker as he discusses the history of the fire service with Bill Killen of the National Fire Heritage Center.
President Bill Killen is a Fire & Emergency Services Executive and retired Fire Chief with 64+ year's fire risk management and fire and emergency services management experience, with 39 years at the Chief Officer level. He commissioned the National Mutual Aid System Task Force following Hurricane Katrina, September 2005, resulting in the National Mutual Aid System's development. Chief Killen developed and coordinated the publication of the "National Mutual Aid System for the Fire Service: A Strategic Plan," September 2006. He served as the President of the International Association of Fire Chiefs (IAFC) (2005-2006).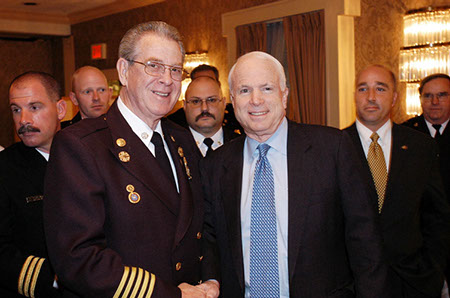 Visit this website and learn more about President/CEO, Fire Chief (Ret.) Bill Killen.
By Bill Killen - History of the Apollo and Skylab Astronaut Rescue Team is 185+ pages including 80+ pages in color. This detailed history of Kennedy Space Center fire department rescue teams during the Apollo and Skylab eras includes unpublished rare photos.
By accepting you will be accessing a service provided by a third-party external to https://fireheritageusa.org/